Scary Celebrations Coming Your Way...Or Not.
Halloween has existed in one form or another for at least two thousand years. Its predecessor was Samhain celebrated by the Celts in ancient Ireland, The United Kingdom and northern France.
For the Celts, Samhain marked the end of summer, the end of harvest and the beginning of winter. Associated with death, Samhain was the time when offerings were made to honor the deceased, livestock were taken into account and decisions were made about which animals to slaughter for food and to maintain the herds during the coming winter. Crops were stored away against need and preparations for the cold were made. Bonfires were set and general merry making ensued, to honor the season, the harvest and their gods.
When Christianity became the popular religion, Samhain became Hallowmas encompassing All Hallow's Eve, All Saint's Day and All Soul's Day from Oct 31 to Nov 2 and is still practiced by Catholics today. Eventually, All Hallow's Eve became truncated into Halloween.
Many of the pagan beliefs mixed with the new Christian ones and from this came the idea of costumes during modern Halloween festivities, since costumes were often worn during Celtic celebrations. People would dress as demons and monsters, believing that on All Hallow's Eve such creatures walked among us and dressed as one of them to protect themselves from becoming their victims, hoping to escape their notice.
Today Halloween is celebrated as a secular and religious holiday in many places. The United States is probably the best known place that Halloween is celebrated in the most recognized form. Children dress in costumes and "Trick or Treat" from one house to another collecting candy and treats. Parties are held with Halloween themes and games like bobbing for apples, creepy foods are often served. Some examples of those are, eye balls (peeled grapes) brains (Jell-O usually) guts (usually thick pasta noodles covered in pasta sauce and arranged to look disgusting), and worms (the gummy variety or another pasta dish). Candied and caramel apples are also very popular this time of year. Some parties include having your fortune told or haunted houses. Haunted Houses where you pay to enter are also very popular and spring up regularly during the season.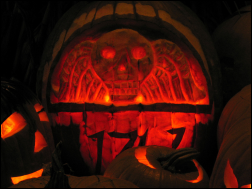 Pumpkins are carved with gap toothed faces traditionally but you can find many done in very elaboration etchings. The original purpose of these were to scare away evil spirits and are called Jack-o-lanterns. The origin of this practice stems from the legend of Stingy Jack who tricked the devil into several different ventures and eventually into never claiming his soul should he die. When he did, God did not want such a deceitful person in heaven and true to his word the devil wouldn't claim his soul either. So the devil sent him back to earth to wander forever with nothing but a burning coal to light his way. He hollowed a turnip to carry it in, and the Irish called him Jack Of The Lantern which eventually became jack-o-lantern. They carved their own from turnips or potatoes to scare him away should he come calling. The English make their own from large beets. When English and Irish immigrants came to America they brought the tradition with them, but found that pumpkins were far better suited to the practice.
El Dia De Los Muertos or The Day of the Dead, which takes the place of Hallowmas, is actually celebrated from Oct 31 to Nov 3, and reflects modern Halloween celebrations in some of its customs. The name denoting it as only a day is a bit of a misnomer. The favorite foods of the dead are set out on an altar for them to partake of, confections in the shape of comical skulls are common place, as is the wearing of skull mask. Wash basins are placed with towels so the dearly departed may wash before eating. Graves are tended to and decorated and picnics are held there to remember the dead. Some of them even include music!
Britain has it's own version of Halloween events. Halloween itself isn't celebrated in Britain, having faded from popularity when the Protestant Reformation began. But Guy Fawkes Day is. Guy Fawkes Day is celebrated on Nov 5 and bonfires with effigies of Guy Fawkes are burned throughout Britain. The celebration commemorates the execution of this nefarious English traitor and so has it's own macabre origins. Guy Fawkes was a member of a Catholic group that wanted to removal of Protestant King James from power. He was executed as a traitor and the first Guy Fawkes Day directly followed his death. Though for two hundred years it was effigies of the Pope that were burned before the switch to Guy Fawkes. Children are often seen carrying an effigy or "guy" and ask passers by for "a penny for the guy", much as American children solicit candy. Guy Fawkes Day is also celebrated in New Zealand but is celebrated more like the US's Fourth Of July, with lots of fireworks.
In Ireland, the holiday is still celebrated much as it is in the United States. The festivities include trick or treating, bobbing for apples, bonfires, and costume parties. Some of the differences include a game called "snap apple" where an apple is tired from a string on a door frame and participants must try to bite the apple without using their hands. Some parents have candy and/or pastry treasure hunts as opposed to trick or treating, and there is a card game often played where candy or other treats are hidden under cards turned face down on a table. What ever card is chosen the child wins the prize beneath.
Some traditional foods are also commonly eaten, one being barmbrack, a kind of fruitcake. In the center of the cake is a muslin wrapped surprise alleged to tell the eater's future. A ring for marriage, or straw for a prosperous year ahead for example. Children also play "knock a dolly" where they knock on a door and run away before the occupant of the home can open it, reminiscent of some of the pranks played in the US.
Like Britain, Australia doesn't really celebrate Halloween. Though some immigrants will occasionally hold their own festivities they have never taken hold, the extent of Halloween celebrations mostly consist of costume parties or masquerades, with lots of music and refreshments.
Halloween and its kin have been celebrated for thousands of years and will probably continue to be, in one form or another for hundreds if not thousands of years to come. So here's wishing you a Frightfully Fun Halloween (and it's derivatives)...or not, as the case may be.